NAM: Things That Weren't True and Other Stories
some funny ~ some sad
The thirty-seven stories in this sometimes harrowing, sometimes hilarious collection look back at the Vietnam War from a distance of over forty years. It is derived of the author's Vietnam War experience, and adds the perspectives of not only the soldiers themselves, but also their children, spouses, siblings, parents, friends.
This is hardly just another batch of macho war stories. These short fictions, most of them memoir-based, neither glorify nor excuse war. They are, instead, an eloquent testament to the tragic lunacy of war. Nothing comparable to this collection exists within the literature growing out of the Vietnam War.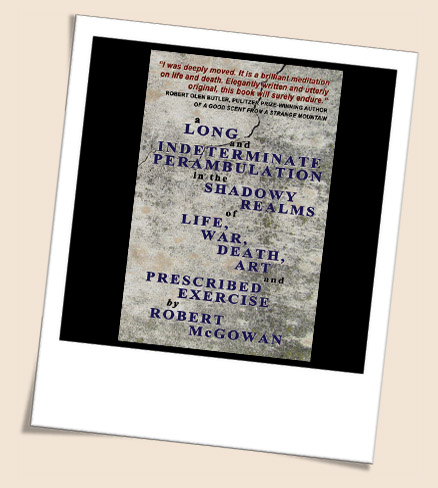 A Long and Indeterminate Perambulation in the Shadowy Realms of
Life, War, Death, Art and Prescribed Exercise
Robert McGowan's A Long and Indeterminate Perambulation is not a conventional piece of storytelling. From the viewpoint of a 75-year-old "philosopher artist," this novella is driven far more by character and idea than by narrative.
The book presents her diary entries following a more or less daily walk around her neighborhood. These entries provide consistently insightful views on the deepest of subjects. . . Life, war, death and art.
Poignant, thought-provoking and not infrequently controversial, A Long and Indeterminate Perambulation is always stirring.